Director Pan Nalin's Gujarati film Chhello Show, an Indo-French co-production, has been selected as India's official entry for the 2023 Oscars. According to the Film Federation of India (FFI) president TP Aggarwal, Chhello Show was unanimously chosen over films such as SS Rajamouli's RRR, Ranbir Kapoor-led Brahmastra, Rajkummar Rao-Bhumi Pednekar-starrer Badhaai Do and R Madhavan's directorial debut Rocketry: The Nambi Effect, for its storytelling technique and the universal appeal of its theme. There were 13 films in the contenders' list this year.
OUR ONLY PARAMETER IS THAT A FILM SHOULD TOUCH YOUR HEART: FFI SELECTION COMMITTEE

Chhello Show (or Last Film Show in English) is set against the backdrop of Indian cinemas witnessing a transition from celluloid to digital, where hundreds of single-screen cinemas are either shut or in ruins. The film follows a nine-year-old boy, Samay, whose life is turned upside down after watching his first movie at a cinema hall. Filmmaker TS Nagabharana, who chaired the selection committee for India's official entry to the Oscars, told us, "It was the Indianness of Chhello Show that appealed to the jury. It was a unanimous decision. The film is about a child's innocence and his dream. It gives you hope that if you chase a dream, it can come true. The film's idea has universal appeal and is applicable to any child anywhere in the world. We liked how the film begins innovatively and ends with hope. All 13 films which were in consideration, six of which were Hindi, were good films."

Chhello Show was among the 13 contenders last year too. Then why was the film not selected then? TS Nagabharana replies, "Last year, the film was under consideration, but it had not been screened publicly by then – which is one of the criteria for selection. This year, the film has had screenings and it will be released soon."
What are the parameters that the jury looks for while selecting a film? He laughs, "The only parameter is that the film should touch our heart."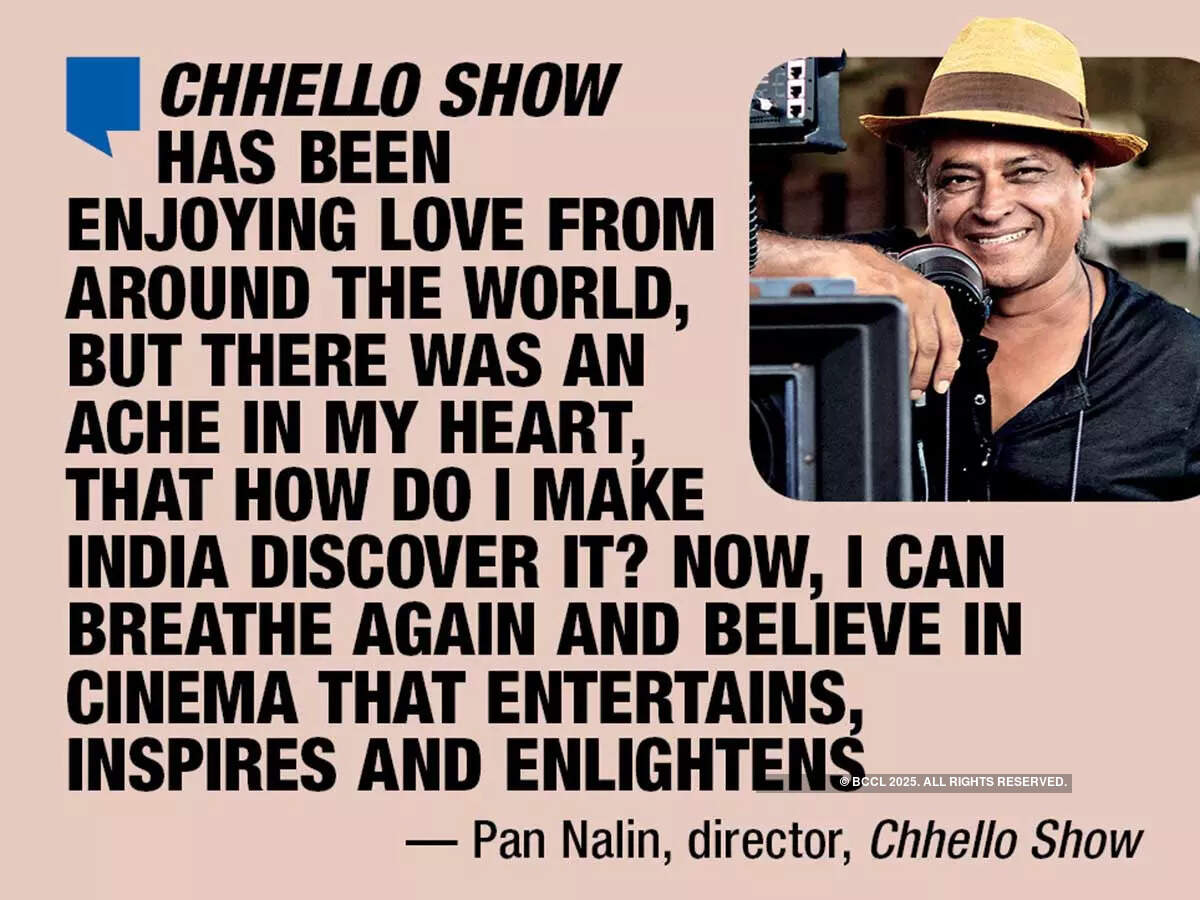 NOW, I CAN BREATHE AGAIN AND BELIEVE IN CINEMA THAT ENTERTAINS, INSPIRES AND ENLIGHTENS: PAN NALIN

After the announcement, director Pan Nalin, who has earlier directed films like Samsara, Angry Indian Goddesses and Valley Of Flowers, and was also invited to be an Academy member this year, says, "Chhello Show has been enjoying love from around the world, but there was an ache in my heart, that how do I make India discover it? Thank you for believing in Chhello Show. Now, I can breathe again and believe in cinema that entertains, inspires and enlightens."

The film had its world premiere at Tribeca Festival last year. It won the Golden Spike at the 66th Valladolid Film Festival in Spain and the Audience Award in the World Cinema strand of the Mill Valley Film Festival.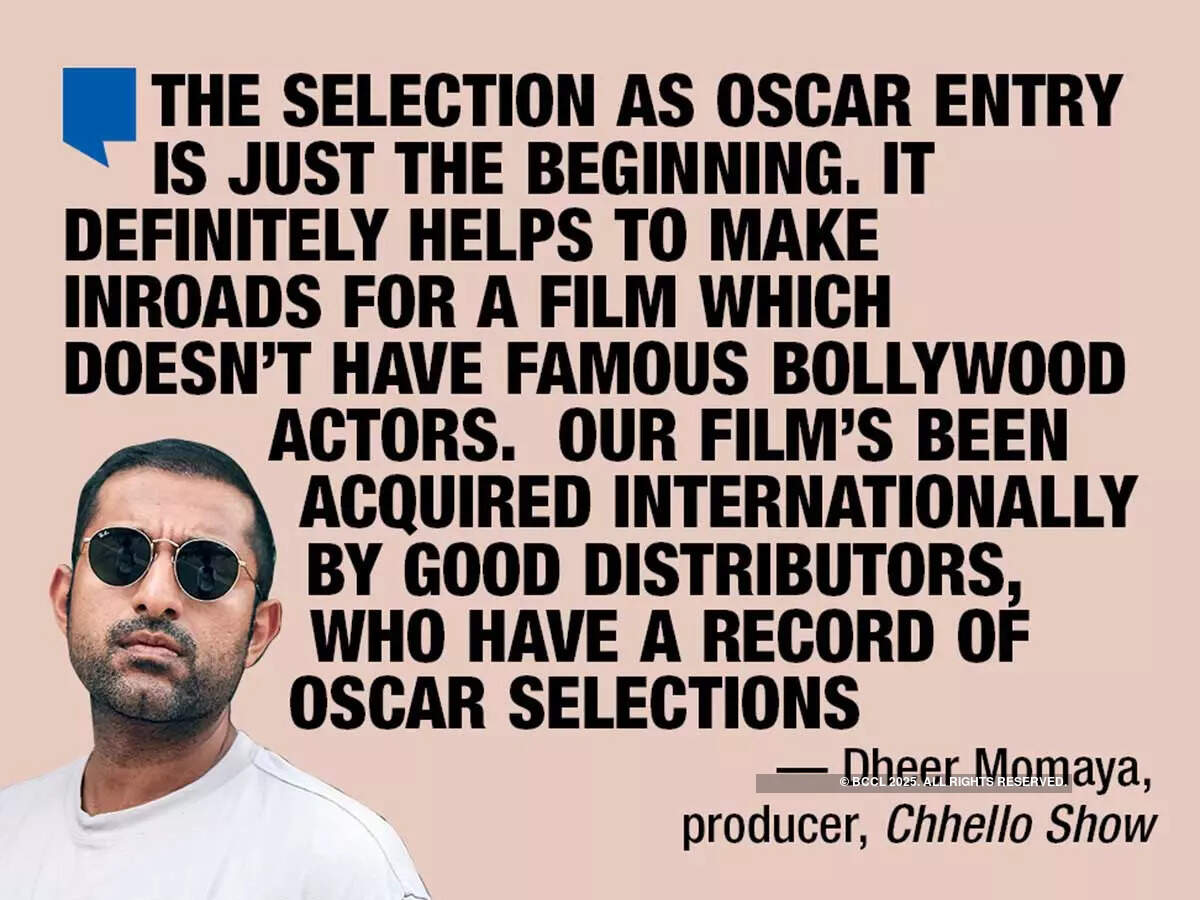 WE HAD THE BEST TECHNICAL TEAM THAT HELPED US COMPETE WITH THE REST OF GLOBAL CINEMA: DHEER MOMAYA

Dheer Momaya, the film's producer who has been working on it for five years, says that had they not been selected as India's official Oscar entry, they had planned to apply for the mainstream categories as well. He says, "Our film has been acquired internationally by good distributors (especially in the US and France), who have a record of Oscar selections. This is the first time that distinguished global studios have acquired distribution rights to an Indian film. The highest number of Academy voting members after the US is in France and distributors from both countries have acquired our film. We know how we are going to navigate the road to the Oscars. It is a long fight and it is not easy. The selection as an Oscar entry is not victory, it is just the beginning. It definitely helps to make inroads for a film which doesn't have famous Bollywood actors and team. We have already been working with foreign distributors."At the same time, Momaya adds, "The fact that we had the best technical team – cinematographer Swapnil Sonawane, who has done shows like Sacred Games, casting director Dilip Shankar, who has worked on multiple Oscar-winning films like Life Of Pi, sound designer Gilles Bernadeau and DI colourist Kevin Le Dortz who have worked on many Oscar, Cesar and Cannes winning films – allows it to stand technically strong with the rest of global cinema."

On social media, the film is being compared with Cinema Paradiso (1988) which is about the friendship between a boy and a cinema projectionist. Dheer says, "That is the only similarity between the two. Saying both films are the same is like saying all spy movies or all action movies are the same. It is the originality of our film that impressed foreign distributors."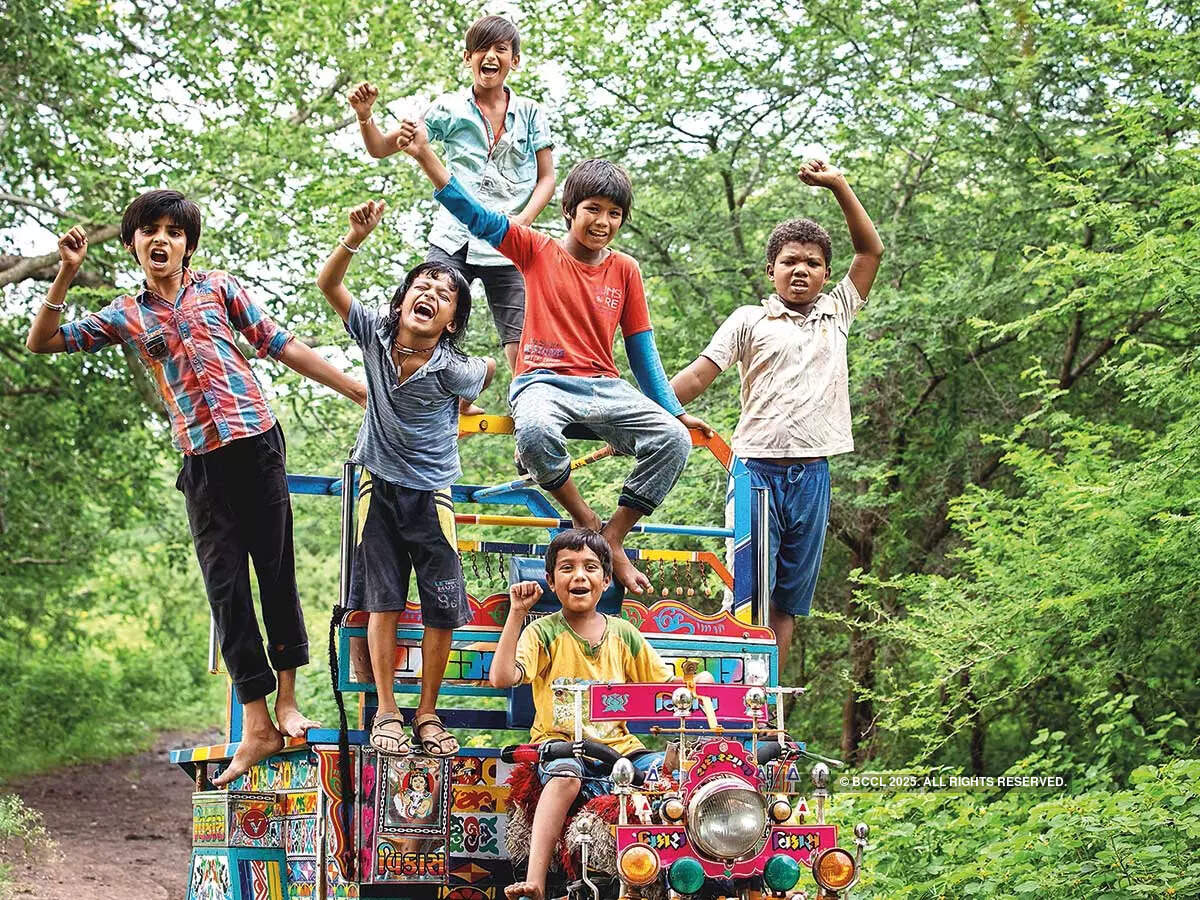 IT IS A MATTER OF GREAT PRIDE FOR US TO REPRESENT INDIA WITH THIS FILM, SAYS SIDDHARTH ROY KAPUR

Siddharth Roy Kapur, under whose banner the film will be released in India, said in a statement, "There could not be a more apt time for a film like this one, that celebrates the magic and wonder of cinema and the theatrical experience. When cinema-going around the world has been disrupted by a pandemic, it reminds audiences anew of the first time they fell in love with the

experience of watching a movie in a darkened cinema hall. It is a matter of great pride for us to represent our country with this film, and with the backing of our partners, we will make sure that we give it our best shot at the Academy Awards."


DECODING THE SELECTION PROCESS

TP Aggarwal, President, FFI, says, "The selection process is quite simple. The Film Federation of India (FFI) informs all producer bodies to submit their films, who in turn, inform their members, and then films are submitted. Following which the selection committee members vote and decide about the film which is sent as an Oscar entry from India. This year, 17 members of the jury unanimously voted for Chhello Show among 13 films.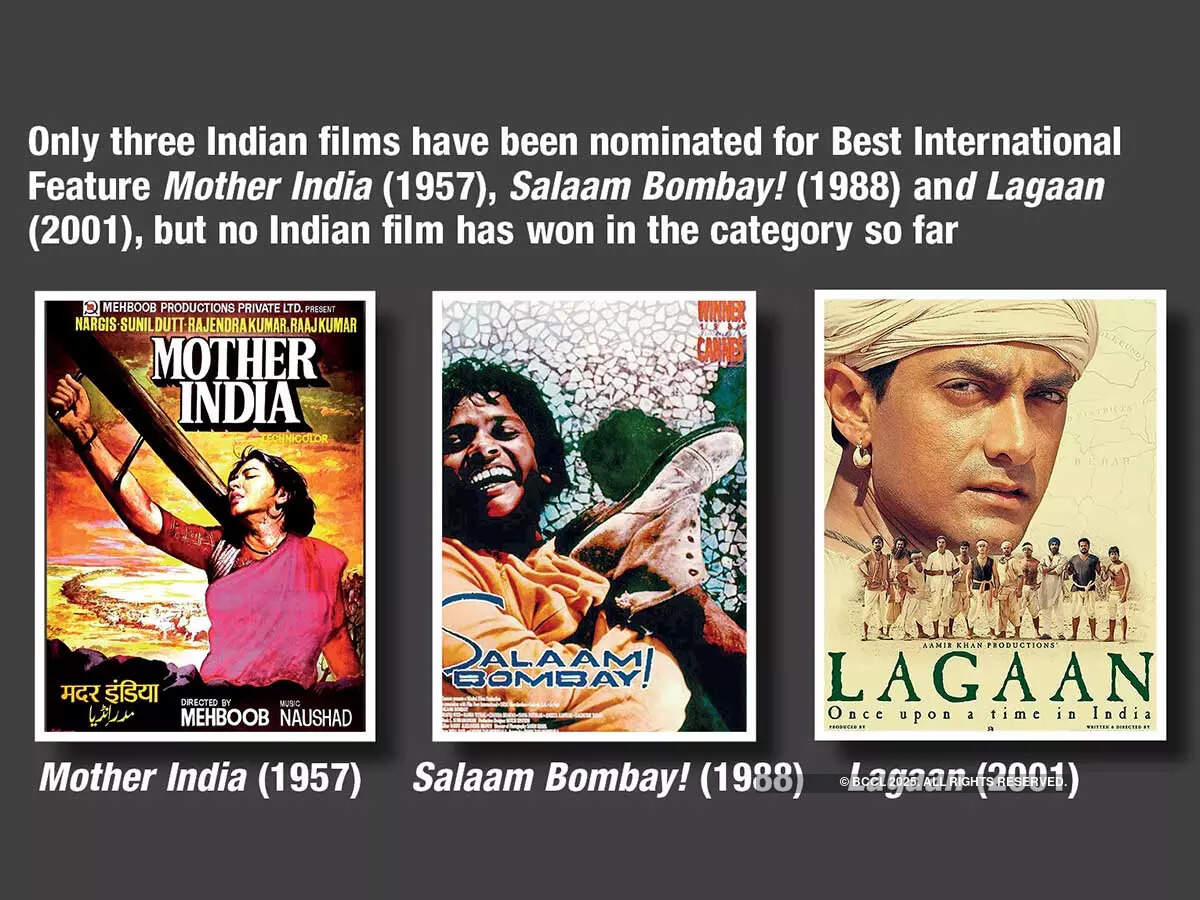 NOT THE END OF THE OSCARS ROAD FOR RRR

RRR was among the fave contenders for India's official Oscars entry this year, with foreign press naming it as a frontrunner in the International Feature Film, as well as Best Song category. However, filmmaker TS Nagabharana – who chaired the selection committee for India's official entry to the Oscars – says, "RRR will have its own term (path) and it has got a value. It doesn't mean that it has to be Oscars (entry) only." Though it may be out of the International Feature Film race, reportedly, the US distributor of RRR will launch a full awards campaign and the film will be submitted for Best Picture, Best Director (SS Rajamouli), Original Screenplay (Rajamouli and V Vijayendra Prasad), Lead Actor (NT Rama Rao Jr and Ram Charan), Supporting Actor (Ajay Devgn), Supporting Actress (Alia Bhatt), and other categories.
FILMS SUBMITTED FOR CONSIDERATION FOR INDIA'S OFFICIAL OSCARS 2023 ENTRY

●Iravin Nizhal (Tamil)

● Rocketry : The Nambi Effect (Hindi)

● Ariyippu (Malayalam)

● The Kashmir Files (Hindi)

● Badhaai Do (Hindi)

● RRR (Telugu)

● Jhund (Hindi)

● Chhello Show (Gujarati)

● Brahmastra (Hindi)

● Sthalam (Telugu)
● Aparajito (Bengali)

● Anek (Hindi)

● Semkhor (Dimasa)